Archives Hub feature for June 2018
The Wallace Collection is a national museum which displays works of art and arms and armour collected by the first four marquesses of Hertford and Sir Richard Wallace, the presumed son of the 4th Marquess. The collection was bequeathed to the nation in 1897 by Lady Wallace, Sir Richard Wallace's widow and the museum opened on June 25 1900. The Wallace Collection Archives consist of papers relating to the founders, records of the museum's history and activities, and discrete archive collections relating to our subject specialist areas of French eighteenth-century art, princely arms and armour and the history of collecting.
2018 is a special year for the museum as it marks the 200th anniversary of the birth of Richard Wallace and there is a series of special events throughout the year, including an exhibition highlighting Richard Wallace's contributions to the main collection. This will be held in the newly expanded exhibition space and will include some archive material.
Richard Wallace was actually born Richard Jackson in July 1818 and was the son of Agnes Jackson and most likely the illegitimate son of Richard Seymour-Conway, from 1842 the 4th Marquess of Hertford. Although his paternity was never acknowledged by the 4th Marquess or Wallace himself, in the absence of more conclusive information this seems likely to be the case. In about 1825 he was brought to Paris by his mother who went there to visit Lord Hertford, and shortly after that he lived in an apartment with his grandmother Maria ('Mie-Mie') Fagnani, 3rd Marchioness and her younger son Lord Henry Seymour, to both of whom he became close. He had himself baptised as Richard Wallace in April 1842, (Wallace was the family name of his mother). The reason for this change of name is not known, but perhaps he was considering marrying Mademoiselle Julie-Amélie-Charlotte Castelnau, who had given birth to his son Edmond Richard in 1840. However, it may be that the 4th Marquess did not approve of this relationship, because they did not marry until 1871, after his death.
Richard Seymour-Conway became the 4th Marquess in 1842, and from then on Wallace was his personal secretary and acted as his agent at auctions, buying many works of art on his behalf as well as developing his own taste in art. By 1857, Wallace had assembled a collection of his own. However, he had got into debt through speculating on the stock market, and although the 4th Marquess paid of some of this debt, Wallace had to sell his collection in 1857.  Wallace was also present at Mie-Mie's bedside when she died in 1856 in Paris, and cut a piece of her hair. The 4th Marquess wrote this: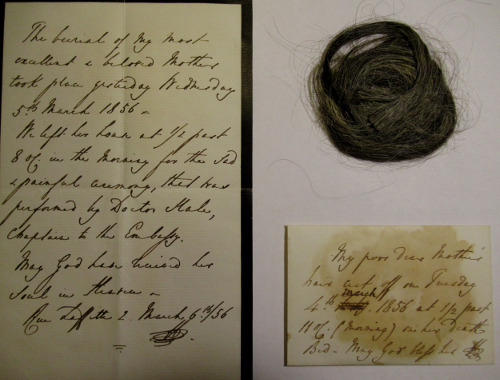 The 4th Marquess died in 1870 and in a codicil to his will he left Wallace all of his unentailed property: the art collections in London and Paris, the apartment in the rue Laffitte, the château of Bagatelle, 105 Piccadilly in London and a large estate in Northern Ireland. Not long after Lord Hertford's death the Siege of Paris started, as a result of which Wallace became quite well known throughout France and Great Britain, not just for his art collection and unexpected inheritance but also for his very generous donations to several philanthropic causes. He gave £12,000 for the equipment of a field hospital to be attached to the army corps in which his son was serving and he became Chairman of the British Charitable Fund. In 1871 when the Siege ended, Wallace was awarded the Legion of Honour, and on 23 August Queen Victoria created him a baronet, after which he moved a large part of his collection to London. That same month he paid a deposit of 300,000 francs for the collection formed by Alfred-Émilien comte de Nieuwerkerke who, as Surintendant des beaux-arts under Napoleon III, had been the most powerful figure in the official French art establishment during the Second Empire. This purchase significantly increased the quantity of arms and amour in the main collection, which is still on display today.
Before the Wallaces moved into Hertford House, the building needed to be extended to house the works of art, so a large part of the collection was lent to the newly established Bethnal Green Museum (now the Victoria & Albert Museum of Childhood) and the exhibition was opened by the Prince of Wales on June 24 1872. It remained open until 1875 and was visited by just over 2 million visitors.
The Wallaces moved into Hertford House in 1875, and visitors could come and see his collection and would sign a visitors' book displayed in the Great Gallery. From this we know a great variety of notable people visited during Sir Richard and Lady Wallaces' lifetimes, such as Benjamin Disraeli, Auguste Rodin, Isabella Stewart Gardner, Thomas Hardy, Princess Victoria (later Empress Frederick of Germany), and Elizabeth Garrett Anderson, the first female qualified doctor in Great Britain.
Wallace also took an interest in his Irish estate in Counties Antrim and Down, building a house in the main town Lisburn, and giving a public park to the town. In 1884 he became a Trustee of the National Gallery in London, and he lent generously from his collection to exhibitions. He became more reclusive in his later years, particularly following the death of his only son in 1887, and spent longer periods in Paris. Richard Wallace died in 1890 at Bagatelle, his residence in the Bois de Boulogne on the outskirts of Paris, he was later buried in the Hertford mausoleum at the Père Lachaise Cemetery. He left everything to Lady Wallace, who in turn bequeathed the wonderful art collection on the ground and first floors at Hertford House to the nation in her will.
Morwenna Roche
Archivist & Records Manager
The Wallace Collection
Related
Explore all Wallace Collection Archive collections on the Archives Hub.
Previous feature by The Wallace Collection Archives.
All images copyright The Wallace Collection and reproduced with the kind permission of the copyright holders.