Archives Hub feature for October 2023
The Women's Aid Federation of England Archive is housed in the University of Leeds Special Collections and is currently being arranged, catalogued and preserved as part of a Wellcome Trust funded project. This is an incredibly significant collection, documenting the charity's approaches to tackling domestic abuse from its radical beginnings in the 1970s right through to modern day.
Our three-year project aims to increase public awareness of the work of Women's Aid and to provide long-term preservation and access to this unique collection. The work will culminate next year with the completion of an online searchable catalogue that opens up this important history – just in time to celebrate 50 years of the Women's Aid movement.
Who are Women's Aid?
The Women's Aid Federation of England is a domestic abuse charity that works as the national co-ordinating body for local refuges and domestic abuse services around England. They provide information, training, and resources, as well as lobbying and campaigning for women's rights and legislative changes, both in England and further afield.
Women's Aid was founded in 1974 as the National Women's Aid Federation, before splitting into separate federations for Scotland in 1976 and England, Wales, and Northern Ireland in 1978. Emerging out of the Women's Liberation Movement, they formed as a female-led, activist collective, and were often met with scepticism and suspicion, if not outright aggression.
As the decades pass, we see a narrative of perseverance and progress. The number of refuges affiliated to Women's Aid rose at an incredible rate, proving the dire need for women's services. The Federation gets organised: sending out newsletters, holding national conferences, and building a network of supporters around the country. Today, the Federation is well-established and respected for its expertise, conducting original research, and acting as a consultant to government officials, legal figures, and academics.
What can you find in the Archive?
The Women's Aid Federation of England Archive documents the history of the organisation, from its origins as the National Women's Aid Federation through to present day. The Archive consists of both analogue and digital records, including paper, photographic, textile, audio-visual, and born-digital records. It covers a range of subject areas with a wealth of research potential.
More than anything, the Archive is a major resource for understanding the formation, development and running of Women's Aid. It charts the decisions that shaped the development of the organisation, and how these were communicated and coordinated throughout its national network. For example, the national conference series shows the annual meetings that brought staff, volunteers, and service users together from around the country to debate current issues within Women's Aid and the wider women's rights movement.
Our run of newsletters stretches from 1974 to the 2010s, offering an amazing visual timeline of the development of the organisation through the decades. In the early years especially, they formed a vital line of communication on upcoming campaigns and rallies. The newsletter collection also gives insight into the characteristic wit and humour of the organisation with poems, songs and cartoons peppering the pages. There are also examples of puzzles and colouring pages to help entertain the children who end up moving into refuges with their mothers.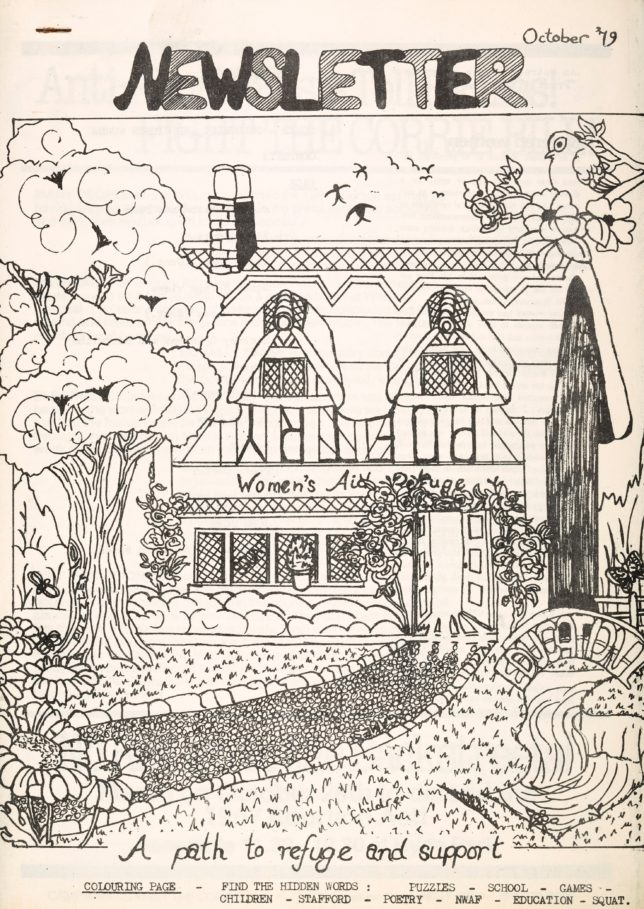 Our digitised collection of posters, postcards, calendars, and badges have recently gone live on our online catalogue. Often brightly coloured, eye catching and extremely emotive, these items were used to spread the word about domestic abuse, signpost where women could get help, and work to change public opinion. The 1970s calendars are prime examples, showing a range of engaging content brought together by women running, volunteering with, or using Women's Aid services. Posters from Women's Aid campaigns highlight the different approaches the organisation has taken over the decades to stand up and be heard, such as working with the police, BBC, and a plethora of celebrities.
How can you explore the material?
The examples shown above just scratch the surface of what has already been catalogued in the Women's Aid Archive, and with the project stretching into 2024 there are still boxes to be catalogued and made available online. Researcher interest has already proven that the Women's Aid Archive is an invaluable source for learning more about the organisation itself and its role in the domestic abuse movement, but also its contribution to wider health and society, changes in the law, and cultural shifts in attitudes towards domestic abuse.
As we come towards a celebration of 50 years of Women's Aid, we look forward to the archive being used to explore what accomplishments have been achieved, and what is still yet to be done.
You can find the Women's Aid Federation of England Collection Guide on the University of Leeds Special Collections website. It provides information on key series in the archive and on how to search the catalogue and request the material. The collection level record for the archive is live and is increasingly being populated with more catalogued material. The catalogue will be complete in 2024.
Holly Smith
Archivist, University of Leeds Special Collections & Galleries
Project Archivist, Women's Aid Federation of England Archive
Related
Descriptions of other archives held by University of Leeds Special Collections can be found on Archives Hub here: https://archiveshub.jisc.ac.uk/data/GB-206.
All images courtesy of Women's Aid Federation of England.