Archives Hub feature for July 2015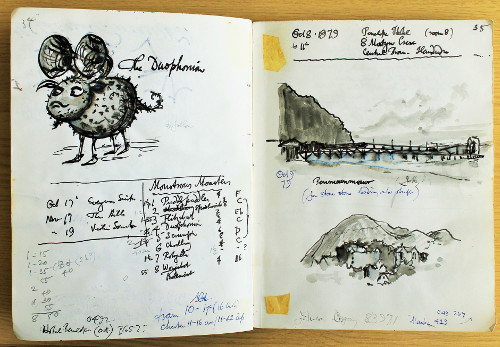 This month's archive one true love is the Thomas Baron Pitfield Collection at the Royal Northern College of Music in Manchester. Pitfield was, to name a handful of epithets, a composer, teacher, poet, artist, engineer, furniture maker, calligrapher and engraver.
He studied and later taught at the Royal Manchester College of Music (RMCM). He is a well-loved composer. However, it is the rest of his creative life that I wish to draw attention to here in this feature. In particular, his sketchbooks.
A bit of context
Pitfield was born 5 April 1903 to a strict Church of England family in Bolton. His parents had him late in life and according to his memoirs he was an unwanted and unplanned for child.
Pitfield was not born into an environment of plentiful inspiration and artistic encouragement. His creative nature was exactly that: his nature. Nurture was not a feature. In his autobiographies he mentions that he was given no means to entertain himself as a child save for his own resourcefulness which he believed fostered innovation in his early years.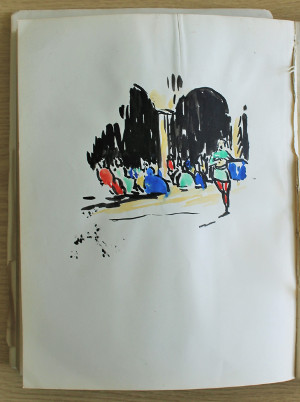 By age two he was notably good at drawing and in school his ability to learn music almost instantaneously by ear was remarked upon. Much, he assures us, to the unimpressed pillars of his parents who intended for him to be a joiner like his father. He strove on however, collecting scraps from his father's workshop and working them into toys and other objects.
At age 14 he was pulled from school and enrolled in an apprenticeship in the millwrights' department of a local engineering firm, which he despised. It took time away from his creative and musical endeavours which he sneakily developed when everyone else was asleep. He also abhorred the idea that the machines he was helping to maintain could one day severely harm or even kill someone, as the near misses he witnessed assured him could happen.
The artist
"The artist [it is said] should be able to find his inspiration in the objects and life about him. I could never wax poetic about the gasometers and industrial plant." (Pitfield, A Song After Supper, 1990 p84). And so he haunted the Bolton moors at the weekends bringing sketchbooks with him. "The countryside is the backdrop of most of my creative thoughts." (ibid 12)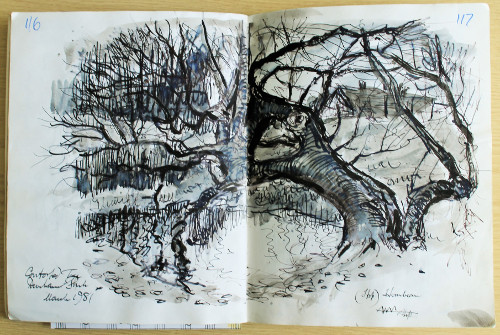 Here we witness the birth of his sketchbook obsession. By the end of his life he had filled over 6,000 pages of thoughts, ideas, paintings, music, teachings, prose, poetry and designs. The calls them "a visual autobiography… so that they have become an outline of my life's activities."(ibid, p95)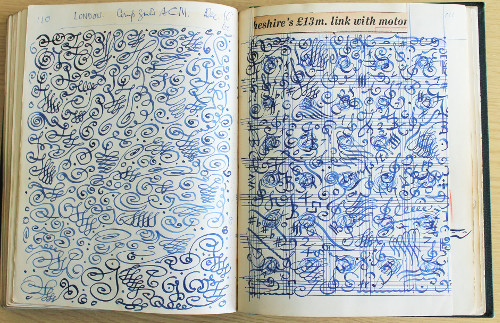 In his books we see everything that influenced his life for over seven decades. From the many pen-and-wash sketches of churches, woodlands, creatures and characters, to the incredible astuteness of his calligraphy and furniture designs. This stream of creative consciousness follows him through his short time as a student at the RMCM after quitting engineering at 21; working as a teacher of woodwork for the unemployed from 23; his fruitful composition career; his fondly remembered time returning as a teacher to the RMCM and beyond.
Philosophy and themes
Pitfield was a complex mould breaker. He remarks that early on he "began to see that an almost rabid conformity in those about me was no assurance of their sanity." (Pitfield, No Song, No Supper, 1986, p24) In his life, themes of self-efficiency and great personal motivation permeate, whether it be stepping away from the religious upbringing, becoming vegetarian at a young age, his pacifism or his love of John Ruskin and William Morris.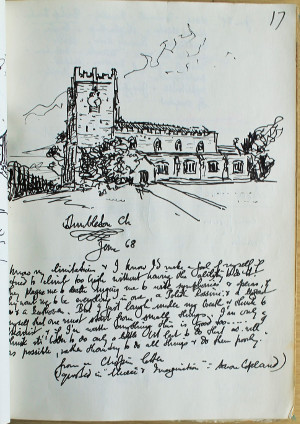 Nevertheless Christian iconography is very apparent in his notebooks and sits alongside furniture designs and the wild nature scenes which uproot the carefully penned calligraphy and drafts for lino prints, prose and poetry. The finished artworks crop up elsewhere in the archive but it is in the sketchbooks, the first manifestation for many of his creative outputs, where we find an absolute wonderland of inspiration.
Thanks for reading. If you would like to know more about his wonderful creations then do get in touch: archives@rncm.ac.uk.
Heather Roberts
College Archivist
Royal Northern College of Music
Related:
The Thomas Pitfield collections on the Archives Hub: http://archiveshub.ac.uk/data/gb1179-tp.
Browse the collections of the Royal Northern College of Music on the Archives Hub.
Artworks copyright: The Pitfield Trust.