Archives Hub feature for November 2018
Last year the Britten-Pears Foundation completed a project, funded by the National Cataloguing Grant programme, to catalogue Imogen Holst's archive held in Aldeburgh, Suffolk, at The Red House, the former home of composer Benjamin Britten and his partner the singer Peter Pears.
Imogen Holst (1907-1984) was the daughter of composer Gustav Holst, best-known for The Planets. Holst, herself a composer, is perhaps best-known today as Britten's musical assistant, but she also had an exceptional, wide-ranging but lesser known career as, amongst other things, educator, conductor and music traveller for CEMA, the Council for the Encouragement of Music and the Arts, work which put her at the forefront of the development of music education and community music-making in England in the twentieth century.
Every Tuesday afternoon in Stories from the Archive a member of the Foundation's collections team gives a short talk to Red House site visitors focusing on an item from the holdings. I chose to share with visitors my enthusiasm for an item from Holst's papers: her 1932 to 1934 scrapbook. This is the sixth of ten large scrapbooks she started as a student at the Royal College of Music in 1926, and continued until 1941, in which she pasted letters, postcards, programmes, press cuttings, photographs, tickets, drawings and other ephemeral material, writing captions next to the items. These volumes represent a colourful social record of cultural and musical life in pre-war England as well as telling the personal story of a passionate and open-minded woman musician.
Holst left the RCM in 1930, having received the Octavia Travelling Scholarship for composition, a prize of £100 which she spent travelling round Europe, returning home in May 1931. In this sixth scrapbook we see Holst at the start of her career – using her talents as composer, arranger, piano accompanist, conductor, public speaker, teacher, writer and organiser, as well as her immense enthusiasm, to earn a living. All the threads are already here that will run through the rest of her life, echoing through her entire archive – skills she continued to use, and passions she followed, whilst teaching at Dartington Hall, Devon, after moving to Aldeburgh in 1952 and in her role as artistic director of the Aldeburgh Festival from 1956 to 1977.
Early in 1932 Holst joined the staff of the English Folk Dance and Song Society. She was passionate about the preservation and spread of our folksong and dance heritage and her scrapbook is full of press cuttings and programmes documenting her travels throughout the country lecturing, teaching, conducting and playing as accompanist for the Society, as well as her work arranging traditional folk tunes for amateurs and professionals to play and sing.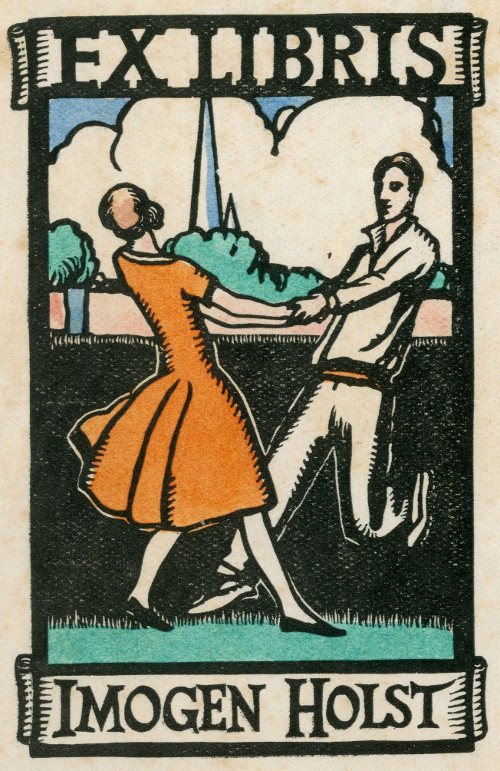 This sixth scrapbook epitomizes Holst's enthusiastic and lifelong work on amateur and community music making, and the important role she played in the democratization of music. We see her as a keen supporter of the newly formed Pipers' Guild, which encouraged people to make and play their own musical instruments. Items in the scrapbook document Holst lecturing on the making and playing of bamboo pipes, arranging old English airs for performance on pipes as well as composing original tunes for both beginner and more advanced players.
Almost a decade later Holst's passion and gift for working with amateurs led her to work, from 1940 to 1942, under CEMA, a forerunner of the Arts Council, as a music traveller to boost home morale during the war by encouraging musical activities in rural communities. Holst was allocated the south west of the country and travelled the wartime countryside, often cycling or walking between villages, to keep people singing, dancing and playing while the bombs fell. The reports Holst filed whilst working in this role were digitised as part of our cataloguing project and can be read in full from the Britten-Pears Foundation's online catalogue. They illustrate the central role played by women in the crucial task of morale-boosting on the home front during the war.
Imogen Holst's continuing enthusiasm for writing for and working with amateurs made her a much-loved part of the music scene in Aldeburgh and more widely in Suffolk.
This enthusiasm emanates from the scrapbook page recording a Gustav Holst Concert on which is pasted programme and press cuttings from a concert held in Carlisle on 12 Feb 1933 featuring first performances of new works by both father and daughter. Imogen Holst's composition, a suite for brass band entitled The Unfortunate Traveller, was dedicated to St. Stephen's Band – the group of amateurs giving the work its first performance. Here Holst crossed social and cultural barriers, not only by writing for brass band, – the News Chronicle article reports on 'the first occasion on which an original brass band work by a woman composer has been publicly performed' – but also by conducting the performance herself. Holst is quoted in The Daily Mail review 'This is the first time, so far as I know, that a woman has conducted a brass band at a public concert'. We see Holst as a pioneer, composing throughout her career for instruments such as brass band, pipes, recorders and hand bells, bringing these instruments into the art music or cultivated music worlds.
Imogen Holst pasted into this scrapbook one of the last letters she received from her father, in May 1934, the month he died. Her papers represent the most significant father-daughter relationship in 20th century British music and culture, one that added immeasurably to the democratization of music during this period, as both Holsts spent their lives and careers dedicated to the task of encouraging amateur music-making. The archive tells the story of the shared ideals, interests and talents of father and daughter – as composers, conductors, music educators, ethnomusicologists and community musicians – however we see from Gustav's letter that he did not share his daughter's enthusiasm for pipes!
Holst's scrapbooks encapsulate, in a wonderfully lively and colourful way, what a remarkable, gifted, pioneering, energetic, generous and busy woman she was. Her papers form part of the Britten-Pears Foundation Archive which documents the lives and work of Britten and Pears, as well as their wider collaborative relationships through the papers of librettists, singers, producers, designers, musical assistants and organisations with whom they worked.
Judith Ratcliffe
Archivist
Britten-Pears Foundation Archive
Related
Browse all Britten-Pears Foundation collections on the Archives Hub
Britten-Pears Foundation online integrated catalogue
Holst Archive cataloguing project blog
The Holst archive project website gives an overview of the collection, details of digitised items available, list of works and further resources for researchers.
Bibliography
Imogen Holst: A Life in Music, revised edition, edited by Christopher Grogan, Woodbridge: Boydell, 2010 (first published 2007)
All images copyright the Pears-Britten Foundation and reproduced with the kind permission of the copyright holders.