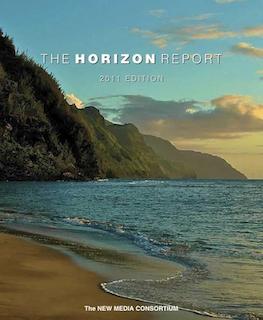 The Horizon Report is an excellent way to get a sense of emerging and developing technologies, and it is worth thinking about what they might mean for archives. In this post I concentrate on the key trends that are featured for the next 1-4 years.
Electronic Books
"[E]lectronic books are beginning to demonstrate capabilities that challenge the very definition of reading."
Electronic books promise not just convenience, but also new ways of thinking about reading. They encourage interactive, social and collaborative approaches. Does this have any implications for archives? Most archives are paper-based and do not lend themselves so well to this kind of approach. We think of consulting archives as a lone pursuit, in a reading room under carefully controlled conditions. The report refers to "a dynamic journey that changes every time it is opened." An appealing thought, and indeed we might feel that archives also offer this kind of journey. Increasingly we have digital and born-digital archives, but could these form part of a more collaborative and interactive way of learning? Issues of authenticity, integrity and intellectual property may mitigate against this.
Whilst we may find it hard to see how archives may not become a part of this world – we are talking about archives, after all, and not published works – there may still be implications around the ways that people start to think about reading. Will students become hooked on rich and visual interfaces and collaborative opportunities that simply do not exist with archives?
Mobiles
"According to a recent report from mobile manufacturer Ericsson, studies show that by 2015, 80% of people accessing the Internet will be doing so from mobile devices."
Mobiles are a major part of the portable society. Archive repositories can benefit from this, ensuring that people can always browse their holdings, wherever they are. We need to be involved in mobile innovation. As the report states: "Cultural heritage organizations and museums are also turning to mobiles to educate and connect with audiences." We should surely see mobiles as an opportunity, not a problem for us, as we increasingly seek to broaden our user-base and connect with other domains. Take a look at the '100 most educational iPhone Apps'. They include a search of US historical documents with highlighting and the ability to add notes.
Augmented Reality
We have tended to think of augmented reality as something suitable for marketing, social engagement and amuseument. But it is starting to provide new opportunities for learning and changing expectations around access to information. This could provide opportunities for archives to engage with users in new ways, providing a more visual experience. Could it provide a means to help people understand what archives are all about? Stanford University in the US has created an island in Second Life. The unique content that the archives provide was seen as something that could draw visitors back and showcase the extensive resources available. Furthermore, they created a 'virtual archives', giving researchers an opportunity to explore the strong rooms, discover and use collections and collaborate in real time.
The main issue around using these kinds of tools is going to be the lack of skills and resources. But we may still have a conflict of opinions over whether virtual reality really has a place in 'serious research'. Does it trivialize archives and research? Or does it provide one means to engage younger potential users of archives in a way that is dynamic and entertaining? I think that it is a very positive thing if used appropriately. The Horizon Report refers to several examples of its use in cultural heritage: the Getty Museum are providing 'access' to a 17th century collector's cabinet of wonders; the Natural History Museum in London are using it in an interactive video about dinosaurs; the Museum of London are using it to allow people to view 3D historical images overlaid on contemporary buildings. Another example is the Powerhouse Museum in Sydney, using AR to show the environment around the Museum 100 years ago. In fact, AR does seem to lend itself particularly well to teaching people about the history around them.
Game-Based Learning
Another example of blending entertainment with learning, games are becoming increasingly popular in higher education, and the Serious Games movement is an indication of how far we have come from the notion that games are simply superficial entertainment. "[R]esearch shows that players readily connect with learning material when doing so will help them achieve personally meaningful goals." For archives, which are often poorly understood by people, I think that gaming may be one possible means to explain what archives are, how to navigate through them and find what may be of interest, and how to use them. How about something a bit like this Smithsonian initiative, Ghosts of a Chance, but for archives?
These technologies offer new ways of learning, but they also suggest that our whole approach to learning is changing. As archivists, we need to think about how this might impact upon us and how we can use it to our advantage. Archives are all about society, identity and story. Surely, therefore, these technologies should give us opportunities to show just how much they are a part of our life experiences.