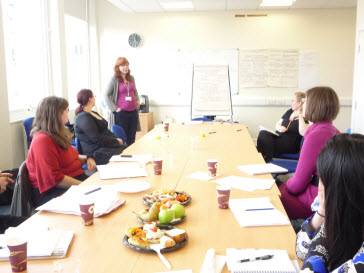 On 14th April the UK Archives Discovery Network (UKAD) met in Manchester to discuss challenges surrounding the opening up of archival data. We were looking to develop our understanding of the key issues driving or preventing these developments and to start pulling together an action plan. We also talked about digital and digitised archives, which I'll blog about in a separate post.
We split into two groups to brainstorm driving and restraining factors. There was no chance of drying up – we all had plenty to say, and of course, the restraining influences grew rapidly, threatening to outstrip the drivers by quite some way. However, in the end we had a good balance, and we felt that the day had been very positive, although summing up the position is one thing, implementing actions is quite another. However, we hope to start putting some things into place that will help to take us along the road to promoting archival discovery.
We are looking to create a UKAD website, which will help us to promote UKAD to archivists and others, and we'll let you know about that as soon as we can.
With thanks to Melinda Haunton from The National Archives, who, as the UKAD secretary, galliantly pulled together the large number of flip charts and made them into something coherent, here is a summary of the points.
Our driving forces included:
Perceived user demand
Time saving – easier to search, more effective customer service
Opportunities – for use of data and for benefiting from others' use
Government policy drivers in this direction (data.gov.uk is evidence of Govt buy-in)
Rich data – think about opportunities to make the most of events, people, places, concepts within the finding aids
Serendipitous collaboration – working together is a big driver – a common way to hear about initiatives and experiences of others that could be of benefit to you
Potential to get new users – eg via GIS data connected to archives data – users who may not think of using archives
Standards exist to drive openness
Sustainability of resources – less tied to a single service if data is open
Enrichment and adding value – others can enrich our data
Archives making use of others' open data – sector benefits from open data as well as contributing to it
Connecting archives – new narratives – data can coalesce around events, people, places, subjects
Exposure of holdings – especially for small repositories who have limited resources to promote themselves
Unlikely to be restrictions on opening up descriptive data (unlike digital/digitised archives)
Could glean evidence of impact – ways to gather usage statistics are increasingly effective – provide evidence of benefits
Opening up could reach out to excluded communities more effectively (different routes into archives)
Potential for wider impact – e.g. in demonstrating impact of academic research (RAE)
Our restraining forces included:
Lack of evidence of user demand – it may not be what we expect/assume
APIs – where they exist, are they used? (possibly not)
Users' understanding what they'll get – you won't normally get direct access to archives through descriptions
Proprietary software providers – may not 'play ball'
Archivists understanding of open data issues – need understanding to get buy-in
Access to developer expertise – archivists frequently find getting IT or developer support very difficult
Machine to machine – not visual, not easy to sell – need to understand the potential
Messy data – all the issues we are so aware of with different data sources; the balkanisation of data
Backlogs – if its not catalogued, we can't open it up
Sustainability of resources
Data becoming out of date as it gets further from the original source – end up reusing out-of-date data
Contractual embargoes – e.g. involving commercial partners e.g. software providers
Dependencies  – potentially data may be dependent on other things – e.g. attached to schema, source code, IPR
Evidence of impact – can be difficult to get this and prove the worth of open data
Branding – or lack of it on reused open data – may affect funding if funders can't see direct benefits
Loss of control causes fear – once its open anything can happen
Lack of 'archival developers' – very few developers with some understanding of archives and archival issues
Our Actions included:
Working together – collaborative evidence gathering and sharing, not competing – use examples/evidence from others
Evidence – case studies, knowing what researchers are requesting, evidence for advantages of digitising
Understanding funders – shared understanding of funders can help with internal funding
Archives developer days – bringing developers together as has been done with Dev8D – collaborative approach to programming
Strategy for approaching software vendors to get buy-in – appeal to their commercial interests, a concerted approach from aggregators may be more effective
UK based evaluation of archival cataloguing systems – still know little about percentages using different systems and evaluation of systems
Conference/workshops to raise awareness of buy in including practical demonstrations – must be interactive and practical and encourage sharing of projects, experiences and ideas