Archives Hub feature for January 2018
"It's fierce, an' it's wild, an' it's not bothered about anybody"
Towards the end of January 1968, Michael Joseph Ltd. published a novel written by Barry Hines, South Yorkshire born author and screenwriter, entitled A Kestrel for a Knave, later to be adapted as the celebrated film Kes, directed by Ken Loach.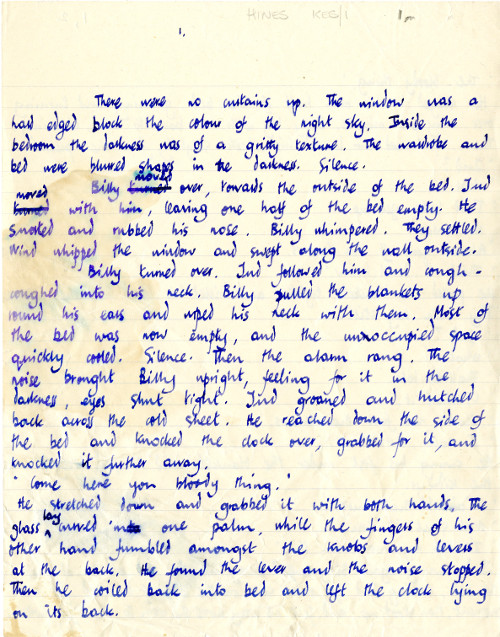 It is the story of Billy Casper, a 15 year old boy from a mining village, his family and school life, and his passion for the kestrel which he trains and cares for. One of the most striking features of the book is its use of the Barnsley dialect, which seems to give it an enduring appeal, and it has been read and enjoyed by generations of schoolchildren, especially in Yorkshire.
In the Hines Papers, held by the Special Collections Department in the University of Sheffield Library, can be found manuscripts and typescripts of the novel (and also the film, play, radio, musical and dance-theatre adaptations that followed it), along with press reviews, correspondence, publicity material and photographs. The archive is also rich in material relating to Barry Hines's other works – novels, films, and TV and radio plays (Born Kicking, The Price of Coal, Looks and Smiles, Threads, and many more) as well as numerous unpublished and unproduced scripts. It also includes quantities of research material as well as many personal items such as school reports, correspondence and photographs, and even Barry's own school scarf from Ecclesfield Grammar School, which was knitted for him by his aunty because the shop-bought ones were too expensive! All of these items help to build a picture of the writer and demonstrate how his own life experiences informed his work.
Barry Hines was born in the mining village of Hoyland Common near Barnsley on 30th June 1939, and attended Ecclesfield Grammar School. One of his proudest moments was playing for the England Secondary Schools football team in 1957. His first job was with the National Coal Board as an apprentice mining engineer, but he returned to education, eventually gaining a teaching qualification at Loughborough University. He worked as a Physical Education teacher for several years, first in London and then in Hoyland Common, eventually leaving to become a full-time writer. He was Yorkshire Arts Fellow in Creative Writing at the University of Sheffield from 1972 to 1974, and became an Honorary Doctor of Letters in 2010. He died in March 2016.
As well as archival documents, the collection also includes many examples of Barry Hines's published works, and particularly notable are the many editions of A Kestrel for a Knave in a variety of different languages.
The Hines Papers are already being viewed as a valuable research resource: David Forrest and Sue Vice from the School of English at the University of Sheffield have recently published a monograph entitled Barry Hines: Kes, Threads and beyond with Manchester University Press; a PhD student is currently researching Hines's lost works; groups of school students have visited the archive, as have members of the Dearne Valley Landscape Partnership's reading group: work created by these latter two groups has been added to the collection.
To mark the 50th anniversary of the publication of A Kestrel for a Knave in 2018, and of the release of the film Kes in 2019, the Special Collections Team is delighted to be collaborating with academic colleagues and a local photographer and local designer on an innovative artistic project that plans to use text and images from the archive to celebrate the book and film both in the city of Sheffield, and also in the wider South Yorkshire region.
Other papers of literary interest held at Sheffield University include the Bonett Manuscripts, the Elizabeth Firth Manuscripts and the James Montgomery Manuscripts, as well as the Richard Hoggart Papers – Hoggart was described by Barry Hines as his "hero".
Jacky Hodgson
Head of Special Collections
University of Sheffield Library
Related:
All University of Sheffield Library collections on the Archives Hub.
All images copyright University of Sheffield Special Collections and reproduced with the kind permission of the copyright holders.