Archives Hub feature for December 2016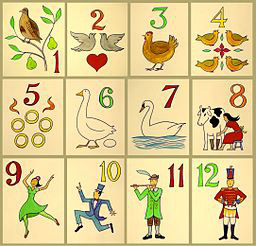 There are several versions of the traditional folk melody The Twelve Days of Christmas. This feature is based on the 1909 publication by English composer Frederic Austin.
On the twelfth day of Christmas, my true love sent to me…
Twelve drummers drumming
'The Little Drummer Boy' greetings card, c. 1968-1999. An illustration of the well-known carol, the card is part of a collection of publications, prints and original artwork by the illustrators, twins Janet and Anne Grahame Johnstone. The Johnston Memorial Collection, 1951-1999, is held by Seven Stories, the Centre for Children's Books.
http://archiveshub.ac.uk/data/gb1840-jaj/jaj/02/04/10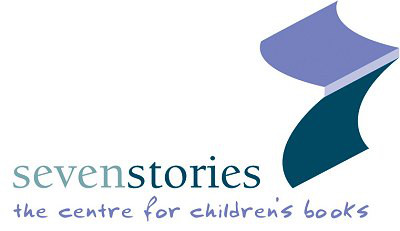 Sarwar Sabri Collection, 1985-2005. Sarwar Sabri (Sarvar Sabri) is an internationally renowned tabla player and composer. As a composer he has provided music for TV, radio and various dance theatre companies. The collection is held by Special Collections, Brunel University Library.
http://archiveshub.ac.uk/data/gb1975-ss
Eleven pipers piping
Dagenham Girl Pipers, 1937-2000. Founded in 1930 by Reverend Joseph Waddington Graves, they were the first female pipe band in the world. The Dagenham Girl Pipers toured the world, and in 1937 appeared in Berlin before Adolf Hitler, who told Mr Graves he wished Germany had a similar band. The Dagenham Girl Pipers Veterans' Association was formed in 1998. The collection includes letters, newspaper cuttings, scrapbooks and photographs and is held by Barking and Dagenham Archive and Local Studies Centre.
http://archiveshub.ac.uk/data/gb350-bd7
Papers of John and Myfanwy Piper, 1882-1990s. John Piper (1903-1992) was a major figure in modern British art. He was a painter in oils and water colour, designed stained glass, ceramics and for the stage, made prints and devised ingenious firework displays. In addition to this he was also a gifted photographer of buildings and landscapes. Piper also wrote poetry, art criticism and several guidebooks on landscape and architecture. the collection is held by the Tate Gallery Archive.
http://archiveshub.ac.uk/data/gb70-tga200410
Ten lords a-leaping
Petitions from Nottinghamshire to Oliver Cromwell (1599-1658), Lord Protector, c.1658. The principal items in the collection are two original petitions to Oliver Cromwell from inhabitants of Nottinghamshire, dating from c. 1658. The first petition requests tougher control on profanity, libertinism and heresies, revision of the laws of the nation, and asks that during Cromwell's lifetime provision for future government is secured. The second petition requests regulation of the ancient laws regarding the Sacrament of the Last Supper and has 15 signatories. The collection is held by the University of Nottingham.
http://archiveshub.ac.uk/data/gb159-ms215
Captain Stanley Lord, Master of the SS Californian, career papers, Titanic articles and other papers, 1891-1997. The collection contains documents dated between 1891 and 1997 and mainly concerns the campaign to clear Captain Stanley Lord (1877-1962) of the accusations levelled against him with regard to the sinking of the Titanic. It contains Captain Lord's career papers, and some contemporary items from 1912. Held by National Museums Liverpool: Maritime Archives and Library.
http://archiveshub.ac.uk/data/gb136-d/lo
Lord David Owen, 1962-2006. David Owen was born in 1938 in Plymouth. He studied medicine at Cambridge University and became a Senior Neurology and Psychiatric Registrar but upon becoming Parliamentary Under-Secretary of State for Defence for the Royal Navy in 1968, resigned his hospital work in favour of politics. He later served as Foreign Secretary until the defeat of the Labour Party in the 1979 General Election and in 1982 became Deputy Leader of the new Social Democrat party. The collection comprises personal papers, papers relating to the Labour Party, SDP papers, papers collected from work with independent organisations and Lord Owen's Office. Held by Liverpool University, Special Collections and Archives.
http://archiveshub.ac.uk/data/gb141-d709
Nine ladies dancing
Papers of Diana Gould, 1926-1996. Diana Rosamund Constance Grace Irene Gould was a British ballerina. Early in her career Sergei Diaghilev spotted her and invited her to join his Ballets Russes but he died before this could be arranged, events said to have been
fictionalized in the film 'The Red Shoes'. Diana married Sir Yehudi Menuhin in 1947. the collection is held by the Rambert Dance Company Archives.
http://archiveshub.ac.uk/data/gb2228-dpdg
Dorothy Madden Collection, 1912-2002. Dr Dorothy Gifford Madden, former Professor Emerita of the University of Maryland, United States of America who was responsible for bringing American modern dance practice to the United Kingdom. Held by Trinity Laban Conservatoire of Music and Dance (Laban Archive).
http://archiveshub.ac.uk/data/gb1701-d23
Collection of material relating to Anna Pavlova, 1875-1965. Anna Pavlova (1881-1931) was the most celebrated ballerina of her generation. The collection includes accessories originally worn by Pavlova in performance, scrapbooks containing many assorted press and illustrated magazine cuttings featuring Pavlova and sepia prints of Pavlova at a young age. Collection held by The Royal Ballet School, White Lodge Museum.
http://archiveshub.ac.uk/data/gb3208-rbs/pav
Eight maids a-milking

M. Russell-Fergusson papers, 1914-1990. M. Russell-Fergusson, Women's National Land Service Corps, served as a milk maid in Norfolk from Aug. 1917 and later in Leicestershire and at the Royal Dairy Farm, Windsor. Held by Leeds University Library.
http://archiveshub.ac.uk/data/gb206-liddlecollectiondf112
Programme for The Foresters, Robin Hood and Maid Marian, 1892. Forms part of The Ellen Terry Collection, materials relating to the Lyceum Theatre series. Actress Ellen Terry (1847-1928) made her stage debut in 1856 as Mamillius in The Winter's Tale. In 1878 was invited to join Henry Irving's company at the Lyceum Theatre as its leading lady. Ellen Terry and Henry Irving were soon regarded as the leading Shakespearean actors in Great Britain and they achieved huge success in both Shakespeare and non-Shakespeare plays. In 1888 she gained excellent reviews for her portrayal of Lady Macbeth in Macbeth. The Lyceum Company toured extensively in both the UK and America to capacity audiences. Held by the V and A Department of Theatre and Performance.
Programme description: http://archiveshub.ac.uk/data/gb71-thm/384/thm/384/44/3
Collection description: http://archiveshub.ac.uk/data/gb71-thm/384
Express Dairies, 1904-1974. The Express Country Milk Supply Company was established in London in 1864 by George Barham. It became the Express Dairy Company Limited in 1892. Milk was transported into London by rail, and delivered to homes. The Dairy Supply Company was formed as a separate company selling dairy equipment such as the milk churn which was invented by Barham. The company grew, purchasing College Farm, Finchley, London to conduct dairy experiments. The farm was sold in 1983. The firm also ran Express teashops, cafes and bakery and became a limited company in 1937. In 1969 Express became part of Grand Metropolitan and in 1992 part of Northern Foods. In 1998 the name of Express Dairies Plc returned, with the division of Northern Foods into two sections. Collection held by the University of Reading, Museum of English Rural Life.
http://archiveshub.ac.uk/data/gb7-trexp
Seven swans a-swimming
Harold Thomas Swan Papers, 1945-1996. Papers on the history of the clinical use of penicillin, 1945-1996, with particular reference to its early use in Sheffield, and to the reputation of Sir Alexander Fleming. Assembled by Dr Harold T. SwanMD, FRCP, FRCPath, Honorary Lecturer in Medical History, University of Sheffield, and formerly Consultant in Haematology, United Sheffield Hospitals. Held by the University of Sheffield Library.
http://archiveshub.ac.uk/data/gb200-ms185
Archives of Swan Sonnenschein and Co, 1878-1916. William Swan Sonnenschein (1855-1934) was apprenticed to the firm of Williams and Norgate where he gained experience of second hand bookselling before founding his own company, W. Swan Sonnenschein and Allen, with the first of several partners, J. Archibald Allen, in 1878. This partnership was dissolved in 1882 when William married and the firm's name changed to W Swan Sonnenschein and Co. The firm published general literature and periodicals but specialised in sociology and politics. Sonnenschein was involved with the Ethical Society and published their literature. In 1895 Swan Sonnenschein became a limited liability company and in 1902 William Swan Sonnenschein left to work at George Routledge and Sons and later at Kegan Paul. Swan Sonnenschein was amalgamated with George Allen and Co in 1911. The collection is held by Reading University: Special Collections Services.
http://archiveshub.ac.uk/data/gb6-rulmss3280,3282,4058
Six geese a-laying
Cuttings about Mother Goose pantomime, 1951. These records form part of the Unity Theatre, theatre company collection held by V&A Department of Theatre and Performance. Unity Theatre was founded in 1936 by a general meeting of the Rebel Players and Red Radio, left-wing theatre groups derived from the Workers' Theatre Movement.
http://archiveshub.ac.uk/data/gb71-thm/9/thm/9/4/5/77
Gwynydd Gosling collection, 1990. Gwynydd Gosling is a private collector of Russian books and objets d'art. The collection comprises photographs of two tankard lids commemorating the Arrow Boat Club four-oared race, St Petersburg, 1870 (R. Butts, E. Gibson, W. E. Hubbard, A. W. Raitt, B. Wilding). Held by Leeds University Library.
http://archiveshub.ac.uk/data/gb206-ms1095
Goslings and Sharpe: private bankers, Fleet Street (London): branch records including customer ledgers, 1717-1972. One of the oldest City banks, the partnership originated c1650 with Henry Pinckney, a goldsmith banker trading from the sign of the three squirrels in Fleet Street, London. The firm was led subsequently by the Chambers family. In 1794 Benjamin Sharpe became a partner and from that date the customary name of the business was Goslings and Sharpe, the Sharpes remaining as junior partners with no right to nominate their successors. In 1742 Sir Francis Gosling joined the firm and thereafter the Goslings name predominated in the partnership. The Goslings' original trade was that of stationers. Although most accounts are for individuals or family trusts, there are also non-personal accounts such as those of charities (including some schools and hospitals), public subscriptions (including relief of soldiers and of victims of natural disasters), colleges, businesses, and a few public corporations and parishes. Collection held by Barclays Group Archives (BGA).
http://archiveshub.ac.uk/data/gb2044-cfleetstreet19(goslings)
Five gold rings
The Golden Ring: a new and original fairy spectacular opera. by G[eorge] R. Sims with music by Frederic Clay. Stated as performed at "Alhambra Theatre, William Holland, Manager, 1883". Part of the The George R. Sims Collection, 1858-1976. George Robert Sims (1847-1922) was an author, playwright, journalist and philanthropist. Collection held by The University of Manchester, The John Rylands University Library.
Volume description: http://archiveshub.ac.uk/data/gb133-grs/grs/2/11
Collection description: http://archiveshub.ac.uk/data/gb133-grs
National Union of Gold, Silver and Allied Trades, 1921-1985. The National Union of Gold, Silver and Allied Trades was formed in 1914 by the amalgamation of the Amalgamated Society of Gold, Silver and Kindred Trades and the Birmingham Silversmiths and Electroplate Operatives' Society. In 1969 it absorbed the Society of Goldsmiths, Jewellers and Kindred Trades. In 1981 it became part of the Amalgamated Union of Engineering Workers (Technical, Administrative and Supervisory Section). Held by Modern Records Centre, University of Warwick.
http://archiveshub.ac.uk/data/gb152-mss.101/st
The rings may in fact refer to ringed-necked pheasants:
Pictorial tapestry rug featuring a pheasant, 1888.
Tapestry rug of worsted yarn and jute in acid colours featuring a pheasant in a floral landscape. Part of the Stoddard-Templeton Carpet and Textile Collection (c. 1840s-1960s). James Templeton and Co. was established in 1843, making Chenille, Axminster, Wilton and Brussels carpets. It employed artists of international calibre such as Charles Voysey, Walter Crane and Frank Brangwyn, with their carpets used in Coronations and in liners such as the Titanic. The collection is held by The Glasgow School of Art Archives and Collections Centre.
https://archiveshub.jisc.ac.uk/data/gb1694-dc077/dc077/2
Four calling birds
This could be song birds, such as Canaries, or may be 'colly' or black birds:
Descriptions of the Canary Islands and of the Azores, c. 1610.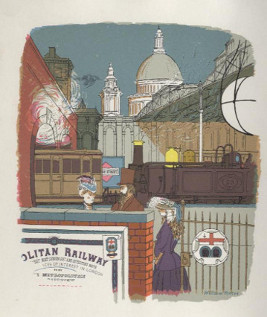 The manuscript consists of two works, bound together. The first is a description of the Canary Islands, detailing the history, religion and laws of the natives, called the Guanches, as well as observations on the geography and fauna of the islands. The second work is a compilation from other works describing the Azores.The existence of the Canary Islands, a chain of seven islands off the northwest coast of Africa, was known to the Romans and later the Arabs, and European navigators reached the islands in the 13th century. The Azores, an archipelago in the Mid-Atlantic, were discovered in 1427 by the Portuguese and their colonisation by them began in 1432. The collection is held by  The University of Manchester, The John Rylands University Library.
http://archiveshub.ac.uk/data/gb133-engms17
Briefing on Canary Wharf Station, 1989.
Paper concerning delays and changes in the redesign of Canary Wharf Station. Subjects include construction and negotiations, unresolved issues and financial risk. Part of a series of minutes of meetings belonging to the Transport for London Group Archive.
http://archiveshub.ac.uk/data/gb2856-%28new%29lt000099/%28new%29lt000099/035
Production contracts for 'Study from 'Blackbird", 2002. Part of the Rambert Dance Company Archive: Productions collection (1920s – 2010s), the folder includes choreographer contracts, production budget and correspondence concerning casting travel and rehearsals.
http://archiveshub.ac.uk/data/gb2228-rdc/pd/rdc/pd/06/01/0423
Three French hens
Michael French Collection, 1887-2006. Photographs and documents inherited and collected by Michael French relating to the French family of millers and their mills. Collection held by the Mills Archive Trust.
http://archiveshub.ac.uk/data/gb3132-fren
Richard Hughes, Ty Hen Isaf Manuscripts, 1693 – 1910. Richard Hughes of Ty Hen Isaf, Llannerch-y-medd, Anglesey was born in 1837 and died in 1930. As a young boy, he worked on Dyffryn Gwyn farm for the Rev. John Prytherch, who was one of the largest farmers in Anglesey. He also served as husbandman for two spinsters, who unexpectedly left him all their property. This enabled Richard Hughes to satisfy his two ambitions, to travel and to own a library. Then began a series of visits to Palestine and the Mediterranean. He became a great collector of rare and precious books and a friendship sprang between him and Thomas Shankland, the Welsh librarian of the University College of North Wales. Held by Bangor University.
http://archiveshub.ac.uk/data/gb222-bmssrh
Two turtle doves
Ms transcript of song, 'The Turtle Dove'. 2 leaves belonging to a series of ms and ts transcripts of songs and ballads (1925 to 1965) by the poet and author Robert Graves (1895-1985). The papers are held at St John's College, Oxford.
Item description: http://archiveshub.ac.uk/data/gb473-rg/m/rg/m/ballads/4
Collection description: http://archiveshub.ac.uk/data/gb473-rg
Records for the Dove Brothers Ltd, builders, 1850-1970.
Dove Brothers Ltd was a prominent construction company based in Islington from 1781 to 1993 which worked with most of the major architects of the late 19th to 20th century. The company was founded by William Spencer Dove (1793-1869). His sons formed the Dove Brothers partnership in 1852. The collection is held by Islington Local History Centre.
http://archiveshub.ac.uk/data/gb1032-s/dov
Reader's Digest presents Christmas Stories for the entire family, Dove Audio, 1995. Featuring Paul Scofield reading 'A Christmas Carol' by Charles Dickens. This forms part of the Paul Schofield Collection, 1807 – 2010. Paul Scofield (1922-2008)  started his stage career in the 1940s and his name soon became synonymous with Classical theatre. Later in his career Scofield worked closely with the Royal Shakespeare Company for a number of years as well as The National Theatre, his roles were numerous and diverse. Beyond the theatre Scofield won acclaim through a number of films including 'A Man For All Seasons'(1966) and 'Expresso Bongo'(1958), as well as copious amounts of audiobooks and plays for BBC radio. Collection held by: V&A Department of Theatre and Performance.
Item description: http://archiveshub.ac.uk/data/gb71-thm/397/thm/397/5/2/27
Collection description: http://archiveshub.ac.uk/data/gb71-thm/397
And a partridge in a pear tree!
David Cassidy Collection, 1972-1976. The Amercian singer David Cassidy was best known for the musical sitcom The Partridge Family. The collection, created by  fan Kay Chesterman, consists of cuttings, publications and memorabilia relating to David Cassidy and members of his fan club. Held by the V&A Department of Theatre and Performance.
http://archiveshub.ac.uk/data/gb71-thm/378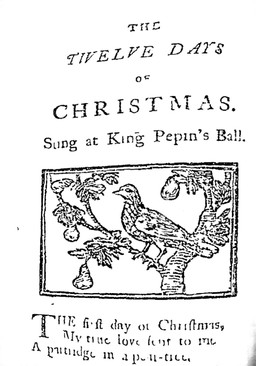 Bernard Partridge Drawings Collection, 1861-1905. Bernard Partridge (1861-1945) was a painter and illustrator who became the principal cartoonist of Punch magazine. This collection includes drawings of actor-manager Henry Irving (1838-1905) in some of his most famous roles, including Shylock, Hamlet, Mephistopheles, Dubosc and Lear. Collection held by the V&A Department of Theatre and Performance.
http://archiveshub.ac.uk/data/gb71-thm/227
Artworks by James Joshua Guthrie and relating to the Pear Tree Press, 1897-1930s. Designs and illustrations, along with other book illustration work and bookplates for the Pear Tree Press. Forms part of the British Library: Western Manuscripts' collection The Gordon Bottomley Papers, 1773, 1831-1958.  Consisting of correspondence, diaries, literary materials, artwork, photographs, and printed ephemera by, relating to, or collected by poet and playwright Gordon Bottomley (1874-1948).
Folder description: http://archiveshub.ac.uk/data/gb58-addms88957/addms88957/4/4
Collection description: http://archiveshub.ac.uk/data/gb58-addms88957
Trustees of W S Brown – proposed purchase of Deep Mines under Pear Tree House, Tyldesley. 1905. 2 items of correspondence, maintained by the trustees of the Bridgewater estate Ltd. Forms part of the Bridgewater Estates Archive, 1895-1960s, held by the University of Salford.
Item description: http://archiveshub.ac.uk/data/gb427-bea/bea/i/1774
Collection description: http://archiveshub.ac.uk/data/gb427-bea
Related information
Birds of the Twelve Days of Christmas, 10,000 Birds blog post, 2015: http://10000birds.com/birds-of-the-twelve-days-of-christmas.htm
The Twelve Days of Christmas – archives style! Archives Hub feature for December 2014