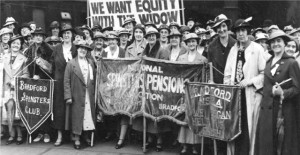 A project we've been working quietly on over the past few months is adding Themed Collections to the Archives Hub. Themed Collections are collections of digital or digitised archive material that don't fit the model of a traditional archive collection, but which we think would be of use and interest to researchers. Some of the Themed Collections we've added so far include History to Herstory, Observing the 1980s, My Leicestershire Digital Archive, and the Digital Dance Archives. You can browse the full list of Themed Collections.
This has taken a bit more work than we originally anticipated, as we've been stretching EAD and the current Hub structure to allow for descriptions of collections that don't fit with what's expected of a 'normal' archival description. For instance, we require descriptions on the Hub to have (at least one) named originator, but this doesn't apply to Themed Collections, where the material might have hundreds of different originators, or none at all – finding originators for fossils would be a very interesting challenge! This means that we've had to make changes to how we validate the Hub's EAD requirements, as well as how these descriptions display on the Hub.
This work started out in partnership with Jisc Content, so the Themed Collections currently on the Hub are taken from the descriptions of Jisc Content collections. But we don't want to stop there, and are inviting submissions of Themed Collections. Adding your collections to the Archives Hub gives you exposure to a worldwide audience of thousands of searchers every month.  If you have a project or collection that you think would make a good Themed Collection, please complete the form to submit it to the Hub, or contact us.