Archives Hub feature for February 2015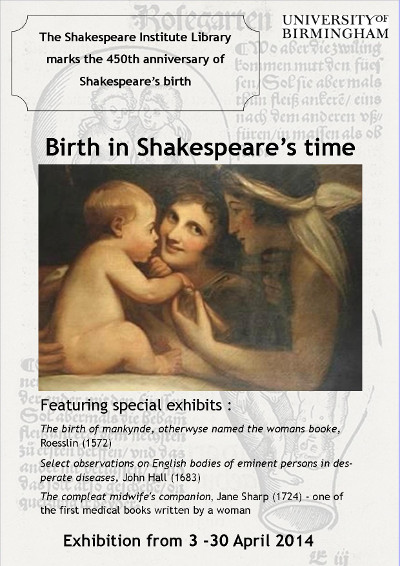 The Shakespeare Institute Library holds monthly exhibitions which bring out lesser known aspects of our collections and especially our archive holdings.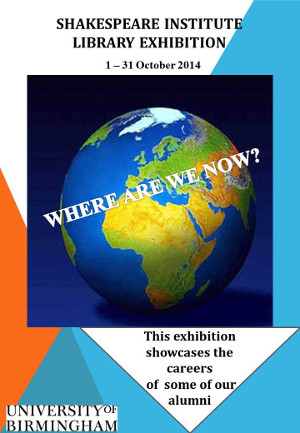 These exhibitions were designed as a way to inform our users, predominantly our student body, of the breadth and depth of our holdings. As they have developed they have also enabled us to connect with the students and our local community in other ways: highlighting the careers and output of alumni of the Institute, promoting other collections in the local area, tying in with events and conferences, etc.
All library staff get involved in the researching, formatting, publicising and mounting of exhibitions so, as well as informing our users our staff get an excellent chance for learning more about the contents of the library and to work on areas of professional development – which, of course, can only benefit out users. The enthusiasm of the staff for the exhibitions has helped developed an exciting programme themes which we programme for the year. Work on these is scheduled so that there is a clear picture of when other collections need to be approached. As one is launched the work on the next begins.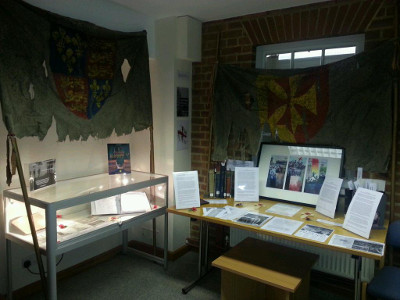 These exhibitions have also given us the opportunity to collaborate with neighbouring collections. In November 2014 we held an exhibition on the boys of a King Edward VI School (Stratford-upon-Avon) who died in the First World War and performed in a production of Henry V in 1913, directed by Frank Benson.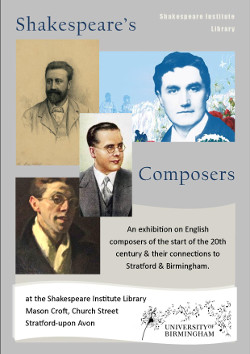 We've also worked extensively with the Shakespeare Birthplace Trust and the Library of Birmingham, most recently on an exhibition on Shakespeare's Composers for which we displayed a manuscript of Vaughan Williams incidental music to the afore mentioned Henry V (1913) and a manuscript of Granville Bantock's music for a production of Macbeth performed at the Prince's Theatre, London, 1926.
We also utilise the knowledge of our academic staff in order to develop exhibition ideas, themes and to check over content. When tied in to our curriculum, conference and symposia themes the exhibitions have also proved an ideal way of encouraging students to look beyond the reading list. By highlighting areas of direct relevance they also encourage visiting academics and students into the Library when they are attending events at the Institute. Our library users have really appreciated the opportunity to see beyond the book shelves.
Blogging about the exhibitions has also helped to market our library beyond the University.
In January 2015 as student came from America to consult the collections at the Shakespeare Institute, the Shakespeare Birthplace Trust and King Edward's School after reading about the KES Henry V exhibition online. Now he has had access to the archives for this production he's started writing a play as well as his MA dissertation. SIL blog address: http://silibrary1.wordpress.com/
Our programme of exhibitions is going from strength-to-strength and their success has been acknowledged by our department in Library Services with the funding of high quality display boards and a glass cabinet in order to facilitate more ambitious projects. This year we look forward to showing off our resources on some fascinating themes, including: Approaches to Teaching Shakespeare, Elizabethan Printing, Comic Book Shakespeare and Shakespeare and the Actor. We hope that they'll continue to be informative and inspiring to our users!
Karin Brown, Shakespeare Institute Librarian
Shakespeare Institute Library: http://www.birmingham.ac.uk/schools/edacs/departments/shakespeare/research/shakespeare-institute-library.aspx
Shakespeare Institute: http://www.birmingham.ac.uk/schools/edacs/departments/shakespeare/index.aspx
Related:
Browse the collections of The Shakespeare Institute (University of Birmingham) on the Archives Hub: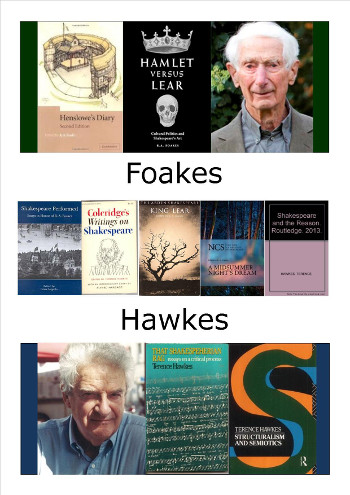 All images copyright Shakespeare Institute, University of Birmingham, and reproduced with the kind permission of the copyright holder.