Archives Hub feature for December 2014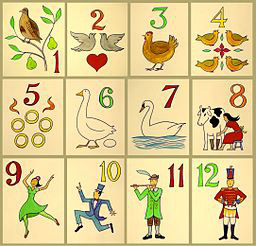 There are several versions of the traditional folk melody The Twelve Days of Christmas (http://en.wikipedia.org/wiki/The_Twelve_Days_of_Christmas_%28song%29). This feature is based on the 1909 publication by English composer Frederic Austin.
On the twelfth day of Christmas, my true love sent to me…
Twelve drummers drumming
Max Abrams Collection, 1920s-1992. Max Abrams was a drummer, teacher of drums and author of drum tutors. He kept detailed diaries between 1943 and 1992, which document his performance career and information about his pupils, as well as personal information. He wrote around 50 jazz tutor books.
http://archiveshub.ac.uk/data/gb2942-ma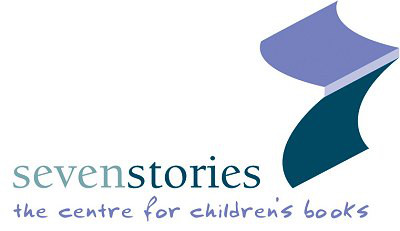 'The Little Drummer Boy' greetings card, c. 1968-1999. An illustration of the well-known carol, the card is part of a collection of publications, prints and original artwork by the illustrators, twins Janet and Anne Grahame Johnstone. The Johnston Memorial Collection is held by Seven Stories, the Centre for Children's Books.
http://archiveshub.ac.uk/data/gb1840-jaj/jaj/02/04/10
Beat The Retreat On Thy Drum (Sam, Sam, Beat the Retreat!), 1932.
Printed score of a musical monologue performed by Stanley Holloway, part
of the Stanley Holloway Archive held by the V&A Department of Theatre and Performance. Stanley Holloway (1890-1982) made over 50 films, but he loved performing in the theatre and the comic monologues, for which he was so well known.
http://archiveshub.ac.uk/data/gb71-thm/18/thm/18/1/7
Eleven pipers piping
Papers of John and Myfanwy Piper, 1882-1990s. John Piper (1903-1992) was a major figure in modern British art. He was a painter in oils and water colour, designed stained glass, ceramics and for the stage, made prints and devised ingenious firework displays. In addition to this he was also a gifted photographer of buildings and landscapes. Piper also wrote poetry, art criticism and several guidebooks on landscape and architecture.
http://archiveshub.ac.uk/data/gb70-tga200410
W.T. Piper papers, 1914-1919. W.T. Piper was a Private, 5th Battalion, East Surrey Regiment, serving in India.
http://archiveshub.ac.uk/data/gb206-liddlecollectionind31
Ten lords a-leaping
Papers of Horatio Nelson, Viscount and First Admiral, 1758-1805. Held by Glasgow University Library, Special Collections Department, comprising correspondence concerning the promotion of Lieutenant Scott of Monmouth.
http://archiveshub.ac.uk/data/gb247-msgen512/35
Manuscript of speeches made by Lord Crewe, Lord Lansdowne, and Lord Loreburn in the Library of the House of Lords, 1908. The speeches were made on Monday, 27th July, 1908, on the occasion of the presentation to the Lord Chancellor, Lord Loreburn, of his portrait painted by Sir George Reid.
http://archiveshub.ac.uk/data/gb206-brothertoncollectionms19creid
Transcription of Thomas Hope, Major Practicks, c. 1670. Sir Thomas Hope (1573-1646) of Craighall, advocate and politician. He was solicitor to the Church of Scotland, became a very successful advocate, then worked for Charles I and was appointed Lord Advocate in 1626 and admitted to the Scottish privy council 2 years later.
http://archiveshub.ac.uk/data/gb227-mske.l2
Nine ladies dancing
Collection of material relating to Anna Pavlova, 1875-1965. Anna Pavlova (1881-1931) was the most celebrated ballerina of her generation. The collection includes accessories originally worn by Pavlova in performance, scrapbooks containing many assorted press and illustrated magazine cuttings featuring Pavlova and sepia prints of Pavlova at a young age.
http://archiveshub.ac.uk/data/gb3208-rbs/pav
Adeline Genée Archive Collection, c. 1890-1970. Danish by birth, Adeline Genée (1878-1970), was a talented ballerina and the founder president of the Association of Teachers of Operatic Dancing of Great Britain (later the Royal Academy of Dance).
http://archiveshub.ac.uk/data/gb3370-rad/ag
Marie Rambert Collection, 1890s-1980s. Collection of films, costumes, photographs, correspondence, diaries, programmes, press cuttings, personal papers, autobiographical notes, awards and medals owned and collected by Dame Marie Rambert throughout her life as well as papers relating to her death and memorials.
http://archiveshub.ac.uk/data/gb2228-mr
Eight maids a-milking
M. Russell-Fergusson papers, 1914-1990. M. Russell-Fergusson, Women's National Land Service Corps, served as a milk maid in Norfolk from Aug. 1917 and later in Leicestershire and at the Royal Dairy Farm, Windsor.
http://archiveshub.ac.uk/data/gb206-liddlecollectiondf112
Photograph of Audree Howard as the Milkmaid in 'Facade', 1930s. Part of a small collection relating to the artist Paul Nash at the Tate Gallery Archive.
http://archiveshub.ac.uk/data/gb70-tga769/tga769/5/13
Seven swans a-swimming

Books about Russia written by members of the Swan/Swann family, 1968-1989. The Swan/Swann family were members of the British community in pre-revolutionary Russia. Material held by Leeds University Library.
http://archiveshub.ac.uk/data/gb206-ms1036
Papers of and relating to Annie S. Swan, c. 1900-1946. Annie Shepherd Swan, daughter of Edward Swan, farmer and potato merchant, was born in Mountskip, near Edinburgh in 1859. She married James Burnett Smith in 1883, and in the early years of their marriage her writing supported him through medical school.
http://archiveshub.ac.uk/data/gb231-ms3517
Swan Land and Cattle Company, 1883-1947. The collection is composed of reminiscences of the Swan Land and Cattle Company. The home ranch of the Swan Land and Cattle Company was sited at Chugwater, Wyoming. Its corporate headquarters were in Cheyenne. This large corporate cattle company, with between 50,000 and 80,000 livestock, at one time controlled an area of land greater than the size of the State of Connecticut.
http://archiveshub.ac.uk/data/gb237-coll-162
Six geese a-laying
'Taking a gander'. Article concerning the geese at the University, 1966. Part of the Lady Violet Deramore Collection (1881-2005) held by the Borthwick Institute, University of York.
http://archiveshub.ac.uk/data/gb193-vder/vder/3/1/2/10
As it's pantomime season (oh no it's not! Oh yes it is!), we also have:
Cuttings about Mother Goose pantomime, 1951. These records form part of the Unity Theatre, theatre company collection held by V&A Department of Theatre and Performance. Unity Theatre was founded in 1936 by a general meeting of the Rebel Players and Red Radio, left-wing theatre groups derived from the Workers' Theatre Movement.
http://archiveshub.ac.uk/data/gb71-thm/9/thm/9/4/5/77
Five gold rings
Small printed notice "Unique and hitherto unknown variety of the Gold Ring Money of Ireland in the form of an Ear Ornament", 1840s. Held by Chetham's Library, this item forms part of the The Correspondence of John Bell, Antiquary and Land Surveyor, Gateshead, Newcastle Collection.
http://archiveshub.ac.uk/data/gb418-bell/bell/1/29
The rings may in fact refer to ringed-necked pheasants:
Pictorial tapestry rug featuring a pheasant, 1888.
Tapestry rug of worsted yarn and jute in acid colours featuring a pheasant in a floral landscape. Part of the Stoddard-Templeton Carpet and Textile Collection (c. 1840s-1960s). James Templeton and Co. was established in 1843, making Chenille, Axminster, Wilton and Brussels carpets. It employed artists of international calibre such as Charles Voysey, Walter Crane and Frank Brangwyn, with their carpets used in Coronations and in liners such as the Titanic. The collection is held by The Glasgow School of Art Archives and Collections Centre.
http://archiveshub.ac.uk/data/gb1694-dc077/2/1
Four calling birds
This could be song birds, such as Canaries, or may be 'colly' or black birds:
Descriptions of the Canary Islands and of the Azores, c. 1610.
The manuscript consists of two works, bound together. The first is a description of the Canary Islands, detailing the history, religion and laws of the natives, called the Guanches, as well as observations on the geography and fauna of the islands. The second work is a compilation from other works describing the Azores.The existence of the Canary Islands, a chain of seven islands off the northwest coast of Africa, was known to the Romans and later the Arabs, and European navigators reached the islands in the 13th century. The Azores, an archipelago in the Mid-Atlantic, were discovered in 1427 by the Portuguese and their colonisation by them began in 1432.
http://archiveshub.ac.uk/data/gb133-engms17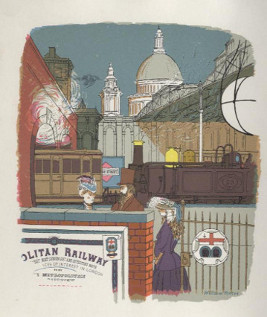 Briefing on Canary Wharf Station, 1989.
Paper concerning delays and changes in the redesign of Canary Wharf Station. Subjects include construction and negotiations, unresolved issues and financial risk. Part of a series of minutes of meetings belonging to the Transport for London Group Archive.
http://archiveshub.ac.uk/data/gb2856-%28new%29lt000099/%28new%29lt000099/035
Production contracts for 'Study from 'Blackbird", 2002. Part of the Rambert Dance Company Archive: Productions collection (1920s – 2010s), the folder includes choreographer contracts, production budget and correspondence concerning casting travel and rehearsals.
http://archiveshub.ac.uk/data/gb2228-rdc/pd/rdc/pd/06/01/0423
Three French hens
'The Little White Hen', 1989-2003.
Material relating to 'The Little White Hen', written by Philippa Pearce and illustrated by Gillian McClure (Scholastic, 1996). The series includes a dummy book; preliminary artwork; four pieces of finished artwork; a small amount of correspondence from Philippa Pearce, with some reviews of the book; and a copy of the first edition of the book.
http://archiveshub.ac.uk/data/gb1840-gmc/gmc/04
Hen Gapel, Llanbryn-mair Chapel Records, 1898-1932.
Hen Gapel (Old Chapel) in Llanbryn-mair, Montgomeryshire is one of the oldest and most famous chapels in Wales. As far back as 1635 the Rev Walter Craddoc had a small congregation in Llanbryn-mair. Initially, the cause had no home and meetings were held in houses or in a nearby forest. In 1739 a chapel was built (then re-built in 1821).
http://archiveshub.ac.uk/data/gb222-bmsshg
Two turtle doves
Ms transcript of song, 'The Turtle Dove'. 2 leaves belonging to a series of ms and ts transcripts of songs and ballads (1925 to 1965) by the poet and author Robert Graves (1895-1985). The papers are held at St John's College, Oxford.
http://archiveshub.ac.uk/data/gb473-rg/m/rg/m/ballads/4
Records for the Dove Brothers Ltd, builders, 1850-1970.
Dove Brothers Ltd was a prominent construction company based in Islington from 1781 to 1993 which worked with most of the major architects of the late 19th to 20th century. The company was founded by William Spencer Dove (1793-1869). His sons formed the Dove Brothers partnership in 1852.
http://archiveshub.ac.uk/data/gb1032-s/dov
And a partridge in a pear tree!
David Cassidy Collection, 1972-1976. The Amercian singer David Cassidy was best known for the musical sitcom The Partridge Family.
http://archiveshub.ac.uk/data/gb71-thm/378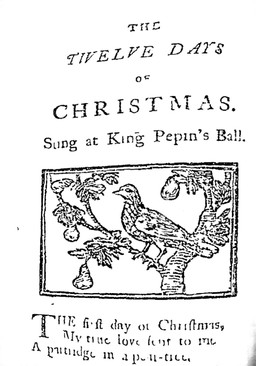 Bernard Partridge Drawings Collection, 1861-1905. Bernard Partridge (1861-1945) was a painter and illustrator who became the principal cartoonist of Punch magazine.
http://archiveshub.ac.uk/data/gb71-thm/227
Artworks by James Joshua Guthrie and relating to the Pear Tree Press, 1897-1930s. Designs and illustrations, along with other book illustration work and bookplates for the Pear Tree Press.
http://archiveshub.ac.uk/data/gb58-addms88957/addms88957/4/4
Trustees of W S Brown – proposed purchase of Deep Mines under Pear Tree House, Tyldesley. 1905. 2 items of correspondence, maintained by the trustees of the Bridgewater estate Ltd.
http://archiveshub.ac.uk/data/gb427-bea/bea/i/1774
Related information
Birds of the Twelve Days of Christmas, 10,000 Birds blog post, 2013: http://10000birds.com/birds-of-the-twelve-days-of-christmas.htm