Archives Hub feature for September 2014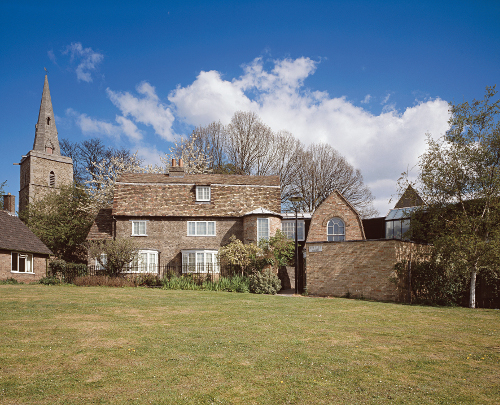 Kettle's Yard – A Way of Life
Kettle's Yard is a unique and special place.  It is so much more than a house, a museum or a gallery, and it invariably leaves a lasting impression with those who visit.
Between 1958 and 1973, Kettle's Yard was the home of Jim and Helen Ede. In the 1920s and 30s, Jim had been a curator at the Tate Gallery in London. It was during this time that he formed friendships with artists and other like-minded people, which allowed him to gather a remarkable collection of works by artists such as Ben and Winifred Nicholson, Alfred Wallis, Christopher Wood, David Jones and Joan Miro, Henri Gaudier-Brzeska, Constantin Brancusi, Henry Moore and Barbara Hepworth.  Ede also shared with many of his artist friends a fascination for beautiful natural objects such as pebbles, weathered wood, shells or feathers, which he also collected.
Jim carefully positioned artworks alongside furniture, glass, ceramics and natural objects, with the aim of creating a perfectly balanced whole. His vision was of a place that should not be
"an art gallery or museum, nor … simply a collection of works of art reflecting my taste or the taste of a given period. It is, rather, a continuing way of life from these last fifty years, in which stray objects, stones, glass, pictures, sculpture, in light and in space, have been used to make manifest the underlying stability."
Jim originally envisaged making a home for his collection in quite a grand house, but unable to find a suitable property, he opted instead to remodel four derelict 19th century cottages and convert them into a single house.
Kettle's Yard was conceived with students in mind, as 'a living place where works of art could be enjoyed . . . where young people could be at home unhampered by the greater austerity of the museum or public art gallery.'  Jim Ede kept 'open house' every afternoon of term, personally guiding his visitors around his home. This experience is still faithfully recreated as visitors ring the bell at the front door, and are welcomed into the house.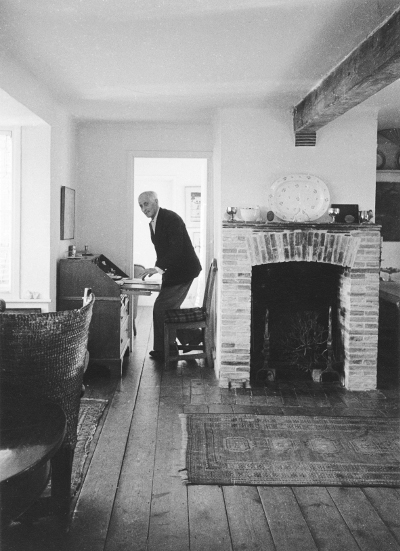 In 1966 Jim gave the house and its contents to the University of Cambridge, though he continued to occupy and run it until 1973. In 1970, the house was extended, and an exhibition gallery added to ensure that there would always be a dynamic element to Kettle's Yard, with space for contemporary exhibitions, music recitals and other public events.
The archive
If Kettle's Yard is the ultimate expression of a way of life developed over 50 years and more, the archive adds an extra dimension by documenting the rich story of how that philosophy evolved.  At its core are Jim Ede's personal papers, which chart a wide range of influences throughout his life, from his experience of World War I, through the 'open house' the Ede's kept in Hampstead through the late 1920s and early 1930s and the vibrant set who attended their parties; the weekend retreats for servicemen on leave from Gibraltar at the Ede's house in Tangier at the end of World War II; the 'lecturer in search of an audience' who travelled to the US in the early 1940s; the prolific correspondence not just with artist friends, but figures such as T E Lawrence; and the development of Kettle's Yard and its collections.
Thanks to the support of the Newton Trust, we are now half way through a 2-year project to improve access to the archive and support research by producing a digital catalogue of the collections, putting in place proper preservation strategies, and establishing procedures for public access. This work builds on the foundations laid by the dedicated archive volunteers, who continue to work with us.
We have started out by publishing a high-level description of the Ede papers on the Archives Hub [http://archiveshub.ac.uk/data/gb1759-ky/ede?page=1#id1308050], to which we will add more detail over the coming year.  The catalogue already includes detailed descriptions of c.120 letters Jim Ede received from the artist and writer David Jones between 1927 and 1971, and c. 200 from the collector and patron Helen Sutherland, from 1926 to 1964.   We will soon be adding correspondence with the artists Ian Hamilton Finlay and Richard Pousette-Dart, and the museum director Perry Rathbone; papers relating to Jim Ede's lifelong mission to promote the work of Henri Gaudier Brzeska, and the establishment and running of Kettle's Yard; and other small collections such as Helen Sutherland's letters to the poet Kathleen Raine.
In another exciting development, Kettle's Yard has now received backing from the Arts Council England Capital Investment Programme Fund to create a new Education Wing and carry out major improvements to the exhibition galleries.  The plans [http://www.kettlesyard.co.uk/development/index.php] include a purpose-built archive store and dedicated space for consulting and exhibiting archive material.
One recent addition to the archive is a letter that Jim Ede wrote in 1964, in response to a thank you note from an undergraduate who had visited Kettle's Yard.  In typical style, Jim expresses concern about whether he really is providing pleasure to others through his endeavours at Kettle's Yard, and draws strength from the expression of gratitude.  He ends the letter 'Do come in as often as you like – the place is only alive when used'.

This is very true of the house, but equally true of the archive – and hopefully everything we are doing to improve physical and intellectual access to the archives, and integrate it into all aspects of the Kettle's Yard programme, will ensure that it is well used.
Frieda Midgley, Archivist
Kettle's Yard, University of Cambridge
All images copyright Ketttle's Yard, University of Cambridge, and reproduced with the kind permission of the copyright holder.