A couple of weeks ago I took part in a training session for postgraduate students from the English department at the University of Salford. This had been organised with Ian Johnston, University Archivist at Salford, and Professor Sharon Ruston from ESPaCH. (School of English, Sociology, Politics & Contemporary History)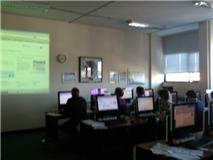 Sharon kicked off the session by explaining what archives mean to her career and how she had actually made her name and written a book on the strength of some new evidence that she uncovered about Shelley and his desire to be a doctor: Shelley and Vitality (Palgrave Macmillan, 2005), which explored the medical and scientific contexts which inform Shelley's concept of vitality in his major poetry.
She went on to detail some of her new research on Humphry Davy (examining poetry & science) and explained that although it can often be a lot of effort to look for archives, it can pay dividends if you put the time and energy into searching.
Ian then took the floor and showed the students some of the hidden gems from the University's archives. He also brought some items with him – a letter from Edith Sitwell, papers from the Duke of Bridgewater archive etc. He also showed some photos of Salford University in the 1970s. We were all fairly amazed by the picture of the paternoster lift, which is a lift that doesn't stop. Literally you have to jump on as it's going past. Talk about students living dangerously!
Ian explained why Salford University contributed to the Hub: the benefits of profile in being part of a national cross-searching service leading to more researchers benefitting from the Salford University Archives Collections.
I then did a demonstration of some different websites where you can search for archives online and went on to show how the Archives Hub, Copac and Zetoc work and the different types of information that you can find in each.
Prior to the session, Ian and Sharon had asked the students for their research areas and I used these as my examples. I find if students cannot easily see how and why something is relevant to them, then they switch off. It's important to tailor your examples to your audience, whatever level they are studying at.
We then got the students to have a go themselves as we walked around the room and gave more individual help. This worked really well as each student got at least 5 or 10 mins of one-to-one help on searching for their particular subject area.
We were all really pleased with how the session went. I could actually see the students sit up and take notice when Sharon was talking about making her name from finding new knowledge. It underlined how primary source material can lead to students incorporating unique perspectives to their research. I feel that this was key to the success of the session. The students were able to see how important archives had been to someone who they respected and knew was an expert in her field.
Ian showed them actual papers and letters from the archive and this allowed them to see concrete examples of what we were talking about, as opposed to thinking about archive materials in an abstract and 'virtual' way by just looking at online finding aids.
Sharon and Ian did a great job of explaining the benefits of using archives, I just told them how to find stuff… It was great to see how engaged the students were with what we were explaining to them. So much so I've been asked back for a repeat performance. (With the academics!)